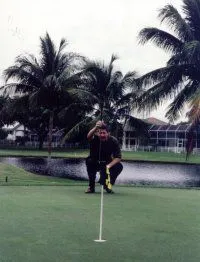 As Featured in the Boca Life Section of the Boca Raton News
Friday, May 28, 1999
BY DANETTE GOULET, STAFF WRITER
Most athletes go to a gym when they want to train. But one Boca Raton doctor suggests they may want to go to an eye specialist.
Larry Lampert does vision training. He is the author of "The Pro's Edge, Vision Training for Golf," a self-help book which aids a golfers' putting, and long and short game.
He has worked with professional golfers, and football and baseball players, helping them improve their game by training their eyes.
"First you have to look at the visual demands of a sport or game," Lampert said. "Then you have to work on developing concentration, training the eye muscles and building up eye coordination."
It may sound strange, but Professional Golf Association players who have met with Lampert and read his book say it is very effective. "He opened up a new window of opportunity for my eyes," said Brett Weeks, a PGA player from Tampa. "For a long time I knew there was something wrong with my eyes, but no one could understand."
Vision training helps with many visual skills such as depth perception, tracking, eye focusing, eye teaming, peripheral vision and eye-hand, eye-foot reaction time.
One of the first questions Lampert asks is, "Are you left-eyed or right-eyed?" For those who don't know, which is most people, he can tell you how to determine which you are. Once you know which eye is dominant, that information can be used to make immediate improvements in your game. The dominant eye should be over the back of the ball. A shot should be lined up with the dominant eye.
The book is chock full of these little tricks as well as exercises that train your eyes. "In my rookie year I always had a problem with my putting game," said Patty Jordan, a LPGA/PGA golf professional, who said she had a problem with her eyes converging. "I do the exercises, it is a slow process. But just the knowledge has helped me. There has been a gradual positive improvement."
Jordan had tried going to an eye doctor in the past without much success. "It's really hard to have someone else know what, we're seeing," she said. "(Lampert) really did a great job of specifically relating (eye therapy) to golf."
Since reading the book, Weeks says he has been faithfully doing the exercises. "It's almost to a point where I can't put it into words how important it is," he said. "My peripheral vision has expanded. My putting has improved so much that people I play with are asking what I'm doing." Well, the secret Weeks has been trying to keep in order to maintain his edge, is out in the open.
Lampert charges between $115 to $150 for an eye exam and consultation, $100 an hour for in office vision training, $300 an hour when he has to travel to meet a player, or $1,500 for a whole day.
For those who love golf, but not enough for those rates, the book provides drills and formulas. Even blank charts in the back to track your own progress. The book is not just for pro's, but any serious golfer who wants to improve his or her game, Lampert said.
"Sometimes we forget that vision runs the entire show," said Bob Winters, a sports psychologist with the PGA Nike tour. "For people with normal vision, they may be performing well, but still make errors. These are not physical errors, but sensory errors. Eye muscles aren't trained properly if the sensory system is giving incorrect information."
Lampert's book provides some tools that allow golfers to adjust their game accordingly. "He kept it simple for the golfing public. Anyone can read it and get something from it" Winters said.